Custom-mAde Rhizobox Designs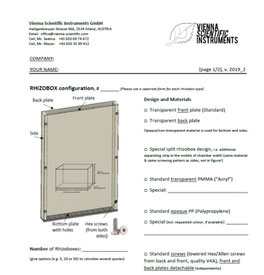 Many thanks to all those ordering custom-made rhizoboxes during the last years!
Today, we introduce a new "Rhizobox configuration" form to simplify researchers' requests for quotes and to ensure customers are aware of options. The form can be downloaded here. 
Please fill-in  (possible quickest by hand), sign, scan/take a photo of the form, and send to office@vienna-scientific.com for quoting (and our reference for potential manufacturing). However, do not hesitate to contact us for others rhizobox / root box designs which do not fit this "standard" form. Happy rhizoboxing!