Rhizobox Configurator Web Tool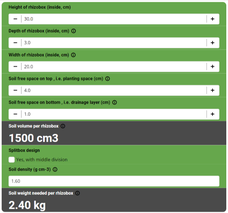 Use the Rhizobox configurator below to determine the target dimensions of your new Vienna Scientific rhizoboxes / rhizonboxes and calculate the effect on the rooting space in standard and splitbox (with middle division) designs. For accurate results, set the soil free spaces at the top (for plants and easier irrigation) and a drainage layer at the bottom. Enter the (wet) bulk soil density of the soil to approximate the weight of soil/substrate required per rhizobox - efficiently plan your new rhizobox experiments on root architecture and soil processes.
Configure your new custom-made rhizoboxes (pdf) and rhizobox accessories (overview) taking the results from the rhizobox calculator into account - optimizing your next rhizobox experiment.
Please do not hesitate to contact us if we can help finalizing your (unconventional) rhizobox designs. Get inspired by different Rhizobox concepts here.
---
Design Examples
---
---