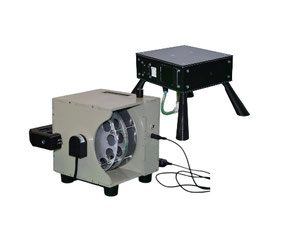 VSI AS-100 and AS-101 Air Samplers. Automatic air samplers are devices used for collecting air samples from the atmosphere. Measuring the gas and volatile composition and/or isotopic signature of air reveals crucial information about water use, carbon balance, greenhouse gas emissions or other pollutants in natural or managed ecosystems or urban environments. To support cost-effective air sampling campaigns in the laboratory and field, we developed the
VSI AS-100 Whole Air Sampler to automatically sample ambient air into evacuated vacuum tubes, i.e. vials, exetainers, and the
VSI AS-101 Sorbent Tube Sampler, passing air through diverse sorbent tubes. 
Both products originate from a range of research projects ("Iso-Drone") with academic partners and are fully lab tested. See Leitner, S. et al, 2023) UAV-based sampling systems to analyse greenhouse gases and volatile organic compounds encompassing compound-specific stable isotope analysis, Atmos. Meas. Tech., 16, 513–527, https://doi.org/10.5194/amt-16-513-2023, for details on both VSI air autosamplers adapted to UAVs. 
The VSI AS-100 air sampler is both lab (220V) and field operable (12V) for highest versatility in a large range of experimental settings. For example, the whole air sampler system is mountable on (eddy flux) towers, in tree canopies and on the ground. Automatic sampling can be triggered according to a predefined time schedule for 24/7 measurements, or sampling can be triggered remotely - avoiding e.g. contamination by exhaled human breath. With the systems, air samples are stored in 12 pre-evacuated, vacuum vials for later routine analyses of gas composition (with a gas chromatograph, mass spectrometer). Sample collection from the immediate vicinity occurs via needle puncture thru a septum, minimising contamination. Optional, a ventilation system for circulating air over longer distances, thus allowing for several sampling points at distance to the device, can be added. The suitability of the sampling system to measure e.g. isotopic signatures at relevant concentration of CO2 in ambient air samples has been confirmed. Our whole air samplers are easy to use and require minimal training.
An automatic vial evacuator (VSI EV-101) to evacuate/reuse vials (incl. e.g. helium flushing and a strong vacuum pump) is available as option, allowing to easily prepare vacuum tubes both in the lab (220V) and the field (12V).
Images for illustration purposes only, design subject to change without notice
At the current configuration, the VSI AS-101 sorbent tube air sampler for laboratory and field measurments can be loaded with four sorbent tubes (weight: c. 1100 g). The sample gas inlet can be set with a manually adjustable pinch valve and adjusted to the sorbent tubes installed (e.g. 50 mL min-1). All tubing is made out of 4 or 6-mm PTFE, and tube connections out of polyethylene terephthalate (PET) or metal. Passing the restriction valve at the sampler inlet, the gas flow is split in two and forwarded to the two inlet ports of an electric four-port gas distribution manifold. The gas manifold enables switching between different sampling modes, either
loading all (four) or a selection of tubes simultaneously (technical replicates), or 
individually for collecting subsequent samples.
In the standard model, 4 sorbent tubes are fitted to the outlets of the gas manifold using straight push-in fittings. A larger number of sorbent tubes (up to 12) can be realised. At the outlet of the sorbent tubes, the gas flow is divided into two streams. Each stream then passes through a flow sensor which records the actual flow rate. Finally, the gas streams are combined and directed to the suction pump. To circumvent the unregulated suction pressure of the pump, a T-piece is installed upstream of the pump inlet to equalise the different flow rates set on the gas inlet restriction valve. This effectively eliminates the exposure to pressure differentials that can lead to altered flow readings, the development of leaks and overuse of sampler components. The AS-101 Sorbent Tube Air Sampler can be fitted with a wide range of different sorbent tubes for different air sampling purposes (see below for sorbents) such as volatile emissions (especially for sesquiterpene and monoterpene sampling), pollen and particulate matter (PM2.5, PM10) concentrations (see below for applications).
The VSI AS-101 sorbent tube sampler for lab and field use is equipped with a memory card, recording the actual flow rate, temperature, air pressure, humidity, the activated sample port number, and time over the sampling event. The sorbent tube collector can be triggered 
automatically at preset times,
automatically at the occurance of certain events (e.g. CO2 concentration, temperature, humidity, location), or 
manually (push button).
The AS-101 requires 12 V DC and is thus fully field and laboratory operable, plugged into the power grid (110-220 V) or operated with batteries. Our automatic sorbent tube samplers are easy to use and require minimal training.
Images for illustration purposes only, design subject to change without notice
Automated whole air samplers such as the VSI AS-100 collect air samples from the atmosphere. They are specifically designed to sample the entire air mass and maintain the integrity of the collected gases for later analysis. Here are some reasons why whole air samplers are useful:
Quantitative sampling: Automated whole air samplers are designed to collect air samples in a way that provides accurate and quantitative measurements of gas concentrations. This is achieved by sampling a fixed volume of air over a period of time, ensuring that the sample is representative of the surrounding atmosphere.
Preservation of gas integrity: The collected air samples are preserved in inert sample container (e.g .glass vials). This ensures that the gas composition is not altered during transport or storage, allowing accurate and reliable analysis.
Multi-gas analysis: Automated whole air samplers can collect air samples for analysis of multiple gases, including greenhouse gases such as carbon dioxide and methane, and other atmospheric trace gases such as sulphur dioxide, nitrogen oxides and ozone. Isotopes can be sucesfully discriminated.
Long-term sampling: Automated whole-air samplers can operate for extended periods of time, allowing air samples to be collected regularly for diurnal or long-term studies of atmospheric composition and changes over time.
Remote sampling: Some automatic whole air samplers can be operated on UAVs, allowing air samples to be taken from remote locations or at heights of the troposphere usually not accessible. 
Event-triggered sampling: Some  whole-air samplers, such as the AS-110, can be fitted to be triggered by environmental cues such as certain temperatures or CO2 concentrations, rending event-based air sampling campaigns feasible.
Overall, automatic whole air samplers are an important tool for atmospheric research, allowing accurate, quantitative and long-term sampling of multiple gases in a variety of locations. Related applications include climate change and environmental research, air quality monitoring, and atmospheric chemistry studies.
Automated Sorbent Tube Samplers such as the VSI AS-101 are particular useful for collecting and analysing volatile organic compounds (VOCs) and other air pollutants in sorbent traps. Sorbent tubes are widely used in combination with gas chromatographic analytical methods to monitor the vapour-phase fraction of organic compounds in air. Target compounds range in volatility from acetylene and freons to phthalates and PCBs and include apolar, polar and reactive species (Woolfenden, 2010). Here are some reasons why automatic sorbent tube samplers are useful:
High sensitivity: Automated Sorbent Tube Samplers can be fitted with highly sensitive sorbent tubes fitting the sampling task at hand (see below for sorbent tubes) - usually  detecting low concentrations of VOCs and other air pollutants. This makes them ideal for use in indoor and outdoor air quality monitoring.
Time-integrated sampling: Automatic sorbent tube samplers are designed to collect air samples over a specified period of time, typically a few minutes to some hours or more. This time-integrated sampling provides a representative and accurate measurement of the average concentration of pollutants in the air, while however, particular concentration peaks might be missed during lonegr sampling campaigns.
Remote sampling: Some sorbent tube samplers can be operated on UAVs, allowing air samples to be taken from remote locations or at unusual heights of the troposphere.
Maintain sample integrity: The collected substance  is trapped on the specific sorbent material inside the sampling tube, ideally preserving sample integrity during transport and storage for reliable and accurate analysis.
Overall, automatic sorbent tube samplers are an important tool for monitoring air quality and investigating indoor and outdoor air pollution. They are highly sensitive, provide time-integrated sampling (of different time periods), preserve sample integrity, are versatile and easy to use. Automated sorbent tube samplers can be used for a variety of applications, including occupational health and safety assessments, industrial hygiene and indoor air quality investigations, and environmental research. See below for a brief overview on sorbent tubes types supporting different applications. 
Sorbent tubes are the most widely used collection media for sampling hazardous gases and vapors in air in research and environmental monitoring settings. Sorbent Tubes are available from multiple manufacturers incl. CARO Analytical Services, SKC Inc., 7Solutions BV, Uniphos Ltd., SKC Ltd, Zefon International, Sigma-Aldrich/Supelco and Markes International, or can be custom-made by individual laboratories. The sorbent in the tubes can hold various types of sampling media, onto which the volatile substance / contaminant is collected by passing air thru the sorbent tubes. The VSI Sorbent Air Sampler AS-101 for laboratory and field use fits most common sorbent tube dimensions (diameter and length) on the market, however, please discuss specific needs (very long tubes, very high flow rates, etc.) with the engineers at Vienna Scientific. 
Sorbent tubes are typically made of glass or metal and contain various types of solid adsorbent material (sorbents). Commonly used sorbents include activated charcoal, silica gel, and organic porous polymers such as Tenax and Amberlite XAD resins. Solid sorbents are selected for sampling specific compounds in air because they:
Trap and retain the compound(s) of interest even in the presence of other compounds,
Do not alter the compound(s) of interest, and
Allow collected compounds to be (easily) desorbed or extracted for analysis
Classical sorbent tubes hold e.g. the following material:
Charcoal Sorbent Tubes. This sorbent has a high surface area for sampling a broad range of primarily non-polar compounds.
Tenax Sorbent Tubes. Tenax® is a traditional sorbent (porous polymer) for trapping medium to high boiling compounds; it is especially useful for low concentrations because of its low background. Tenax is hydrophobic and is suitable for use in EPA Method TO-17 or IP-1B and other thermal desorption applications. Tenax® GR is a Tenax/graphite composite which extends the range of Tenax to lower boiling compounds. It retains the ability of Tenax to be cleaned easily to a very low background and is similarly used widely for thermal desorption.
Silica Gel Sorbent Tubes. Silica gel is a adsorbent material of choice for sampling polar hydrocarbons, low molecular weight mercaptans, methanol, amines, and inorganic acids. Treated Silica gel tubes are also used, e.g. 2, 4-dinitrophenylhydrazine for aldehyde sampling, sulphuric acid treated for ammonia.
Chromosorb Sorbent Tubes. Chromosorb® is a porous polymer sorbent and can be used to trap low-boiling hydrocarbons, benzene, labile compounds, and volatile oxygenated compounds.
Polyurethane Foam (PUF) Tubes. Polyurethane Foam (PUF) tubes are often available in low or high volume versions. The PUF tubes can e.g. be used for ambient air sampling of organochlorine pesticides, polychlorinated biphenyls (PCBs), and polycyclic aromatic hydrocarbons (PAHs).
Thermal Desorption Sorbent Tubes. Single and multiple-bed thermal desorption tubes are filled with on or more sorbents (Tenax, Anasorb etc.) and e.g. used for the determination of sub-ppb VOCs in ambient air. Often thermal desorption tubes are available as purged and unpurged versions by suppliers
In addition, many other sorbents have been used in sorbent tube samplers, including carbon beads, drying tubes, firebrick sorbent, florisil sorbent, molecular sieve sorbent, oxidiser sorbent, soda lime sorbent, and volatile organic sampling traps. Sorbent tubes are attached to a pump or air sampler with a calibrated flow rate for sample collection. Automatic air samplers, such as the VSI AS-101, for sorbent tubes have the advantage of being able to set up sampling schedules or take technical replicates compared to traditional permanently running pump systems.
Ahmed, W. M., Geranios, P., White, I. R., Lawal, O., Nijsen, T. M., Bromley, M. J., ... & Fowler, S. J. 2018. Development of an adaptable headspace sampling method for metabolic profiling of the fungal volatome. Analyst, 143(17), 4155-4162.
Aydin, Y. M., Yaman, B., Koca, H., Dasdemir, O., Kara, M., Altiok, H., ... & Elbir, T. (2014). Biogenic volatile organic compound (BVOC) emissions from forested areas in Turkey: Determination of specific emission rates for thirty-one tree species. Science of the Total Environment, 490, 239-253.
Cuzuel, V., Portas, E., Cognon, G., Rivals, I., Heulard, F., Thiébaut, D., & Vial, J. (2017). Sampling method development and optimization in view of human hand odor analysis by thermal desorption coupled with gas chromatography and mass spectrometry. Analytical and Bioanalytical Chemistry, 409, 5113-5124.
Colborn, T., K. Schultz, L. Herrick, and C. Kwiatkowski. 2014. An exploratory study of air quality near natural gas operations. Human and Ecological Risk Assessment: An International Journal 20:86-105.
Farquhar, G.D., Lloyd, J., Taylor, J.A., Flanagan, L.B., Syvertsen, J.P., Hubick, K.T., et al. 1993. Vegetation Effects on the Isotope Composition of Oxygen in Atmospheric CO2. Nature 363:439.
Helin, A., Hakola, H., & Hellén, H. 2020. Optimisation of a thermal desorption–gas chromatography–mass spectrometry method for the analysis of monoterpenes, sesquiterpenes and diterpenes. Atmospheric Measurement Techniques, 13(7), 3543-3560.
Leitner, S., et al. 2023. "UAV-based sampling systems to analyse greenhouse gases and volatile organic compounds encompassing compound-specific stable isotope analysis." Atmos. Meas. Tech. 16(2): 513-527.
Llompart, M., Li, K., & Fingas, M. (1998). Headspace solid-phase microextraction for the determination of volatile and semi-volatile pollutants in water and air. Journal of Chromatography A, 824(1), 53-61.
Pataki, D. E., J. R. Ehleringer, L. B. Flanagan, D. Yakir, D. R. Bowling, C. J. Still, N. Buchmann, J. O. Kaplan, and J. A. Berry. 2003. The application and interpretation of Keeling plots in terrestrial carbon cycle research. Global Biogeochemical Cycles 17
Sordi, A., J. Dieckow, C. Bayer, M. A. Alburquerque, J. T. Piva, J. A. Zanatta, M. Tomazi, C. M. da Rosa, and A. de Moraes. 2014. Nitrous oxide emission factors for urine and dung patches in a subtropical Brazilian pastureland. Agriculture, Ecosystems & Environment 190:94-103.
Ullah, M. A., & Kim, K. H. 2015. Performance test of a sorbent tube sampler with respect to analyte loss in collecting biogenic volatile organic compounds. Analytical and bioanalytical chemistry, 407, 415-426.
Woolfenden, E. (1997). Monitoring VOCs in air using sorbent tubes followed by thermal desorption-capillary GC analysis: summary of data and practical guidelines. Journal of the Air & Waste Management Association, 47(1), 20-36.
Woolfenden, E. (2010). Sorbent-based sampling methods for volatile and semi-volatile organic compounds in air: Part 1: Sorbent-based air monitoring options. Journal of Chromatography A, 1217(16), 2674-2684.