Particulate matter accumulation by tree foliage - driven by leaf habit, urbanization & pollution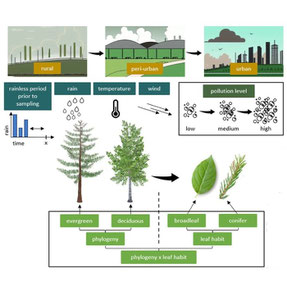 Particulate matter (PM) pollution is a significant threat to human health. Vegetation, especially trees, can act as an effective filter for PM and reduce associated health risks. Previous studies have suggested that tree characteristics play a critical role in determining the amount of PM accumulated on leaves, although findings have often been site-specific. To comprehensively investigate the key factors influencing PM binding to leaves across different tree species and geographical locations, we conducted a comprehensive analysis using data from 57 publications. The data cover 11 countries and 190 tree species from 1996 to 2021.
Results
Evergreen conifers showed the highest PM accumulation on leaves, and in general, evergreen leaves accumulated more PM than deciduous leaves across all PM size classes. Specific leaf characteristics, such as epicuticular wax, played an important role. The highest PM loads on leaves were observed in peri-urban areas along the rural to peri-urban to urban gradient. However, the availability of global data was uneven, with most data coming from urban and peri-urban areas, mainly from China and Poland. Among different climate zones, substantial data were only available for warm temperate and cold steppe climate zones. 
Conclusion
Understanding the problem of PM pollution and the role of green spaces in urban environments is crucial for monitoring and controlling PM pollution. Our systematic review of the literature highlights the variation in PM loading among different vegetation types with different leaf characteristics. In particular, epicuticular wax emerged as a marker trait showing variability across PM size fractions and vegetation types. In conclusion, our review highlights the importance of vegetation in mitigating PM pollution, and the importance of tree characteristics in PM sequestration. However, the lack of data highlights the need for further research and data collection initiatives.
Cite as: Matthias Steinparzer, Johanna Schaubmayr, Douglas L. Godbold, Boris Rewald (2023). Particulate matter accumulation by tree foliage is driven by leaf habit types, urbanization- and pollution levels. Environmental Pollution, https://doi.org/10.1016/j.envpol.2023.122289.
Related Products