Soil Ring Samplers - Determine the Sample Size with the Soil Ring Configurator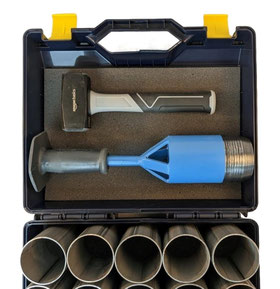 Spring time, field work time. Glad that a new set of soil ring samplers for fast, direct collection of largely undisturbed soil samples is put to good use. Since our soil ring samplers are fully customizable, please use the soil ring configurator below to determine the soil ring size that fits your soil density / sampling needs. Contact us to discuss custom-made soil rings and soil ring samplers meeting your tasks and budget. Happy sampling!
Soil Ring Size Configurator - Web App
Use the Soil Ring Configurator to customize the diameter and height of the soil ring, which will affect the amount of soil sampled, the area covered, and more. Enter soil density to approximate the amount of soil sampled per soil ring.
---