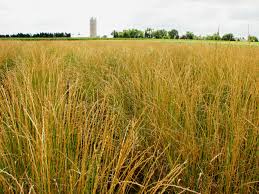 Many thanks to Drs Andrea Kodym (U Vienna) and Rebecca Hood-Novotny (BOKU) for involving us in the KernzAustria proposal: "Carbon sequestration and market development potential of the perennial grain crop Kernza® in Austria." 
Kernza® is the trademark name for the grain of Thinopyrum intermedium being developed at The Land Institute, USA. Kernza® grain plants are very deep rooted, i.e. roots can extend >3 m beneath the soil surface, more than twice the depth of and in greater density than annual wheat roots. This is likely to have many benefits for soil C sequestration and stress resistance - and we hope that VSI MR Imaging technology can help to answer critical questions about rooting depth and dynamics. In good conditions, the long, slender seed heads can contain more seeds than an annual wheat head, but Kernza® seeds are currently about 20% the size of conventional wheat seeds. Thus, the proposal aims also to contribute to the development of higher yields to grow it profitably at scale and bring its environmental benefits to modern farms and diets.
We are very much looking forward working with this interesting plant!